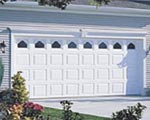 Photo provided by
EverDoor.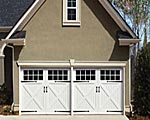 Photo provided by
Artisan Garage Doors.
Carriage House Style Vinyl Garage Doors
Carriage House Style vinyl garage doors have the pleasing detail of wood carriage doors but will not rot, split, check, rust or dent. Made from specially formulated materials for long-term moisture-proof performance and minimal maintenance, vinyl carriage house doors are highly energy efficient. There are great styling options available and they look like real painted wood doors.
Find out more about low-maintenance Vinyl Carriage House Doors.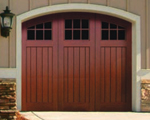 Photo provided by
Artisan Garage Doors.
Wood-Look Vinyl Garage Doors
Wood toned vinyl garage doors have an extraordinary resemblance to natural wood. The low maintenance benefits of cellular vinyl combined with the warm, rich aesthetics of wood create the pleasing texture and allure of a wood carriage house door without the up-keep. Available in eight colors with embossed grain pattern to emulate a wood-like appearance these doors are available in designs to compliment many styles of homes.
Call us today to see how great wood-look vinyl garage doors can look on your house.