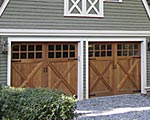 Photo provided by
Skillman Doors, LLC
The beauty of timeless design with the added
convenience of modern technology.
Historically, carriage houses were fitted with wooden doors that opened on swing hinges, and many garages in the area still have similar type doors. The changing seasons in New Jersey make moving leaves or snow, in order to open the garage doors, very inconvenient. Today's technology enables the newest designs in carriage house garage doors to open like a sectional overhead garage door, and when closed present the classic elegance of handcrafted carriage house style doors.
Choose from our full selection of vinyl, steel, composite and wooden garage doors.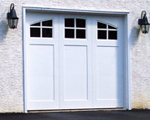 Photo provided by
Skillman Doors, LLC
Vinyl Carriage House Garage Doors bring classic design to contemporary living.
Carriage house garage doors, the latest trend in overhead garage door design, are available to fit any home style and every budget. Offered in low maintenance steel, "green" composite materials, refined wood, and indestructible vinyl, carriage house garage doors present an architectural statement that adds a distinctive look to your home's appearance. An extraordinary portfolio of vinyl garage door styling options, including custom color availability and an amazing finish that resembles real wood, offers the low-maintenance, innovative construction techniques and energy efficiency that today's homeowners require.
Ask to see our wide selection of low maintenance, energy efficient vinyl garage doors.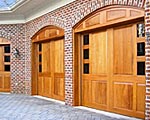 Photo provided by
Artisan Doorworks
Custom garage doors make a statement
Though there are many stock designs to choose from, custom garage doors reflect your personal expression and style. Crafted and built by experts, custom garage doors available in wood, composite and vinyl, are made with the finest materials; unrivaled in quality, beauty and value. If you are building a new home, adding on, or renovating an existing space, consider custom garage doors to complete your architectural statement.
Discuss your custom garage door needs with us today.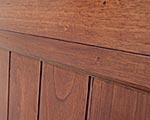 Photo provided by
Skillman Doors, LLC
Handcrafted wooden garage doors
Masterfully crafted and beautifully engineered, wooden garage doors in carriage house styles are elegantly designed and superbly crafted using premium choice woods, resulting in a remarkable blend of refinement, timeless inspiration and distinctive styling. Wooden garage doors have the versatility of being finished in a paint or stain to match the exterior of your home, through the use of a five-step coating system that results in a furniture-like surface available in twelve stain colors, or you can submit your paint color for a custom match, which eliminates on-site finish work. And with wooden garage doors, you don't have to worry about dents or rust.
We'll be happy to consult with you on carriage house garage doors for your home.