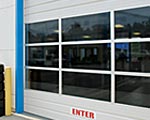 Photo provided by
Amarr Garage Doors
Industrial strength commercial garage doors engineered for the toughest environments.
Commercial-use doors see a lot of action so they need to be durable and long-lasting, Tough, heavy-duty commercial garage doors are built to withstand a higher volume of operation and are made with sturdy materials that will withstand even the most demanding usage. Sectional commercial garage doors are available in a variety of styles in wood, steel and aluminum. Steel commercial garage doors come with or without insulation and/or windows in a number of styles and gauges. Commercial full view aluminum garage doors are offered with tempered glass or solid panels. All doors are available with necessary track configurations to accommodate low headroom, standard lift, high lift and vertical lift conditions.
Contact us today to discuss your commercial garage door
application needs.